←
Back to Blog
Why You Should Use a Keyword Tool for Amazon SEO
There are hundreds of keyword tools for Amazon SEO out there. Sure, Amazon SEO is a critical part of Amazon FBA, but with so many Amazon keyword tools available, you may not know which software is the best. And, once you decide on an Amazon keyword research tool, it may be even harder to learn how to use it to sell on Amazon.
As a seller, nobody knows your Amazon business like you do. You can do keyword research the hard way, or empower yourself with a keyword research tool. With your expert product knowledge and some time-saving software, you will optimize your Amazon presence – but you have to learn how.
What is Amazon SEO?
Shoppers tend to use Amazon keyword search—instead of the browse feature—to look for products. There are thousands of search terms that the shopper could use, and even more keywords you could pick for your product pages.
Picking relevant keywords can make or break your ability to get found in a crowded market. Often, Amazon keyword research gets neglected. When launching a product, other things take priority, and ultimately this task is left incomplete.
Why is Amazon SEO the last thing sellers do?
How often does the average entrepreneur commit to finding long-tail keywords for their Amazon FBA business? Almost never. Why? SEO research for Amazon is forgotten because it's perceived to be hard.
There are at least a million keywords combinations, so narrowing down your list to profitable keywords can feel impossible. 
There's a better way to find the perfect keywords for your Amazon listing's title, bullet points, and backend keywords. Use an Amazon keyword tool!
Luckily, there's a better way to find the perfect keywords for your Amazon listing's title, bullet points, and backend keywords. Use an Amazon keyword tool!
Luckily, with an Amazon keyword search tool, it gets easier. Here's how to get to the top of Amazon search results.
What can an Amazon SEO tool do?
An SEO tool should help you do Amazon product research, listing optimization, or keyword research. At a minimum, the tool should allow you to:
1. Uncover new keywords
2. Prioritize those keywords
3. Analyze your current keywords
1. Uncover New Keywords
The primary advantage of an SEO tool is that it will help you find good organic keywords. You can always find keywords the old fashioned way, or even use the same keywords as your Amazon PPC. Using a tool is far more convenient and effective. 
Amazon SEO tools browse for new keywords that have high search volume. Years ago, sellers could only rely on their best judgment and think of different ways to describe their products. Now that your competition is using data to power their keyword decisions, you can't afford the guesswork. 
Here's a great tactic to find relevant, high-volume search terms: start with a seed keyword. The tool will then find thousands of possible keyword combinations, and rank them in order of their search volume. 
Another advantage of an Amazon keyword tool is reverse ASIN lookup. Spy on competitors to see which search terms are driving organic sales for a particular product.
Pro Tip:
The reverse ASIN feature is available in the Seller Labs PRO web application. Simply add the ASIN you want to research into the search bar.
2. Select the Right Keywords
After you've identified keywords, you need to determine which are a good fit for your business. A lot goes into your potential for success on a particular keyword, like for example, relevance, search volume, and ranking tracking.
Just because a keyword is popular, doesn't mean it will be profitable. We've collected profitable Amazon keywords using our very own SEO tool. You can do the same by connecting keywords with a ranking score, search position and sales data. With data, you are able to get a clear picture into which terms will help your products to sell better.
Pro Tip:
With a tool like Seller Labs PRO, keywords are ranked on a 1-100 score—the higher the score the better the keyword. Seller Labs PRO also allows you to see the estimated sales a keyword has generated for an ASIN in the past 30 days.
3. Analyze Current Keywords
In order to stay competitive in crowded markets, you'll need to understand a keyword's performance over time. You could manually track your ASIN's position on target keywords once a day, week, or quarter, but you'll save time with a specialized tool.
The best Amazon SEO tools will allow you to track historical keyword ranking, price, and product rank for your products and your competitors. This data gives you deeper insights into how a product and its search terms have performed. Knowing this information will help you make informed optimization decisions, so that your business priorities are in line with the data.
Pro Tip:
Seller Labs PRO will track any new keywords you enter to give you the big picture on its performance. You just have to click the binocular icon to track any product or keyword on Amazon.

Why Do You Need an Amazon Keyword Tool?
Simple. Your competition is getting smarter and so should you. If your competition has high-performing keywords in their listings that you don't have, you'll miss out on sales every time.
How do you rank on Amazon? By tracking and incorporating keywords that drive sales into your product listings, you'll start to be discovered more in the second largest search engine on the internet: Amazon.
Want better Amazon Rankings?
Not every shopper searches for a product using the same search terms. Diversifying your keywords gives your product more chances to be discovered.
Seller Labs PRO is the smartest Amazon keyword tool to help you dominate search results. If you're interested in outranking your competitors, sign up for a free 30 days. Watch this video to find out more about how to use Scope, by Seller Labs PRO.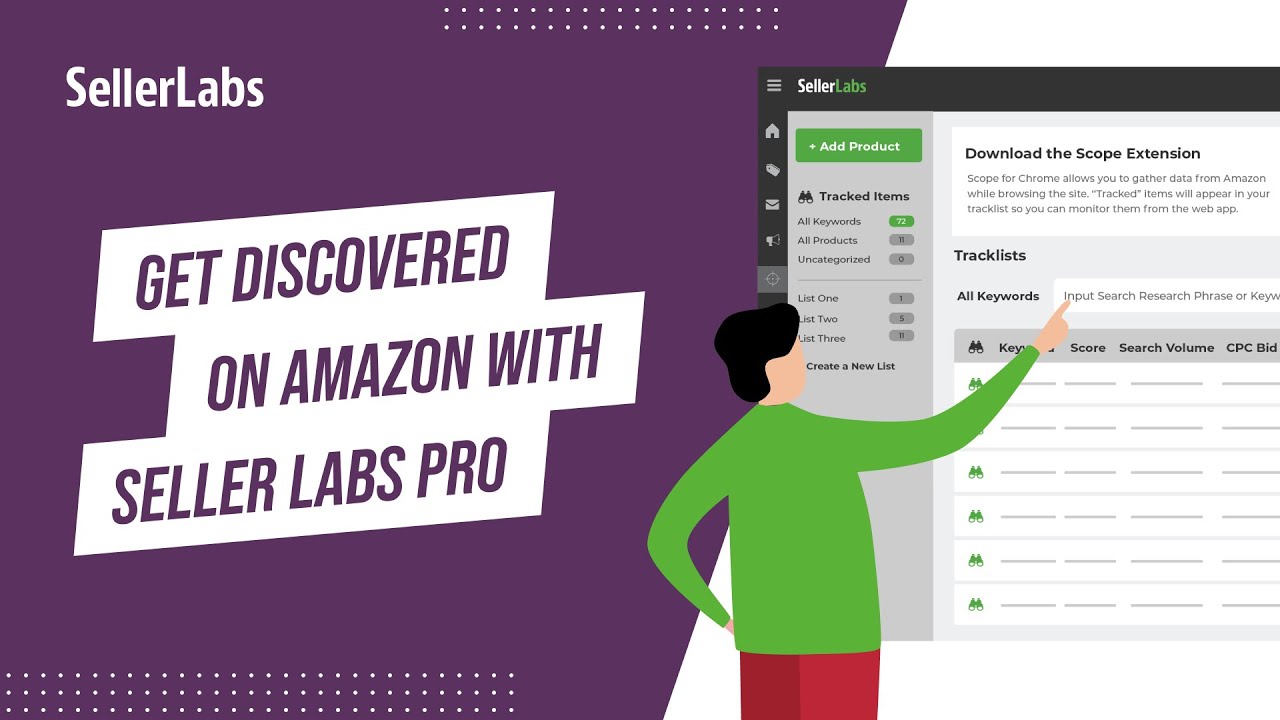 What Seller Labs PRO customers are saying about Scope
If it wasn't for this service, I really highly doubt I would have had the success I'm seeing with my first product ever! Firstly, I was able to fill up all my search terms with every top performing keyword from all my competitor listings combined! Which I'm convinced is why I started out with so many organic sales from the get go with less than 10 reviews and no PPC whatsoever!
Lauren Ward
Product Manager at Seller Labs
Lauren is our tech Product Manager at Seller Labs. Our Chief Problem Solver. In her free time, when she's not taking care of our customers needs, she's enjoying the great outdoors - gardening and gathering fresh eggs from her 7 chickens!
Subscribe to Our Weekly Newsletter to Get
Expert-Backed

Tips Straight Into Your Inbox