←
Back to Blog
Why Is Seller Labs a Better Alternative to Helium 10? All Myths Debunked.
Seller Labs or Helium 10?
Choosing the right Amazon seller software for your Amazon business can be a bit problematic without a deep dive into its features and hidden hazards.
What is it that worries customers the most about the solution they are currently using?
Are there any low-key features that adversely impact sales and coincidentally diminish your brand's growth efforts?
Is there a community of experts supporting your strategy?
Answering all these questions may require a fair chunk of your time, energy, and other resources. And, given that some solutions do not even offer a free trial, you may have to sign up and pay upfront to understand whether the tool matches your requirements or not.
We've put together this guide to help you navigate through the meanders of features that Helium 10 has to offer.
A side note: Since you are reading this comparison in the Seller Labs blog, you can correctly assume that we are a little bit biased. Being 100% transparent, we love our solution so much that we even use it to sell products on Amazon ourselves (check out Jeff Cohen's cupcake store!). However, to make our arguments as objective as possible, we've filtered them based on the testimonials, case studies, reviews, and star ratings, so that you could make your own decision.
What is Seller Labs?
Seller Labs offers an all-in-one Amazon seller software to help you monitor your reviews, sales, and profitability all in a single place. With the right data at hand, you can be sure you are investing your money in the most reliable way.
Check out the video below to find out more about Seller Labs PRO Amazon seller software: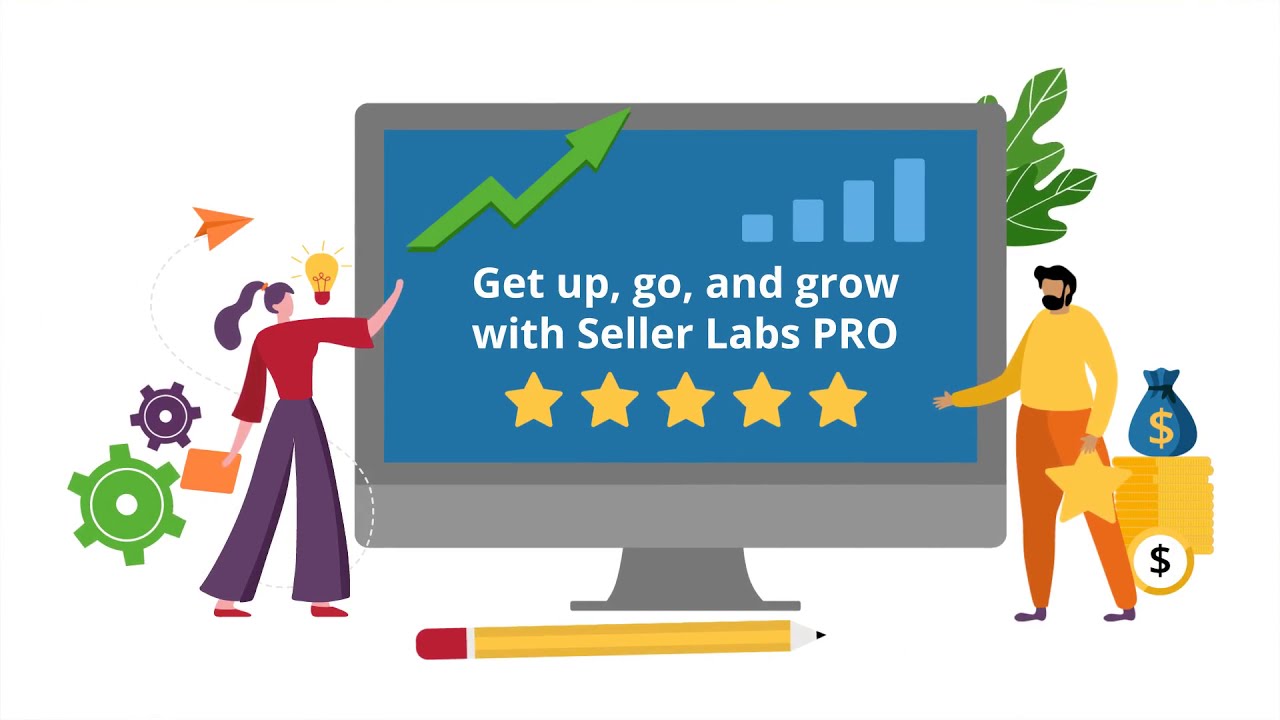 With Seller Labs PRO, you can proactively monitor your sales data, receive feedback alerts, view recent sales reports, and many more—all using our Amazon sales dashboard fine-tuned to your business success.
However, this is not the only tool you can use to sell successfully on Amazon. What's more, you don't have to do it all alone. Seller Labs has an extensive team of experts that can help you re-energize and push your business forward.
Below are the services that you can take advantage of:
Set up PPC ads and drive quality traffic to your Amazon account even if you have a limited budget. Our Account Services Director, Edward "PPC Ed" Ruffin, and his team know a thing or two about the way to masterfully identify keywords that lead to sales.
My Managed Services team understands that running profitable ad campaigns in addition to building an Amazon business is hard. We are here to take some of the work off your plate so you can achieve your advertising goals and grow your Amazon business.
What is Helium 10?
Just like Seller Labs, Helium 10 is a solution that helps sellers efficiently manage and grow their eCommerce businesses on Amazon. There are multiple tools to choose from, including the ones focused on:
Product Research. There's an Amazon product research tool called Black Box, a trends finder, and a profitability calculator.
Keyword research. Cerebro, Magnet, and Misspellinator provide reverse ASIN keyword suggestions, research relevant keywords, and check misspellings, respectively.
Listing Optimization. Frankenstein keyword processor, Scribbles listing optimizer, product keywords index checker, listing analyzer, and audience split testing tools.
Operations. Inventory management, reimbursement assistance, product monitoring, coupon abuse prevention, email automation, mobile app, and more.
Analytics. Helium 10's analytic tools include financial analysis, competitor intelligence, and keyword rank tracking.
Marketing tools include two options: Amazon advertising platform and landing page builder.
The Alta financial solution will allow you to fund, pay, and control your capital.
A bunch of free tools, such as Amazon keyword research, PPC manager, Chrome extension, URL builder, and QR code generator.
Helium 10 also has a range of services to choose from, such as Freedom Ticket Extra—a personalized Amazon seller coaching, a PPC course for beginners, and a Trusted Partner Directory to get expert help on Amazon.
How Do Seller Labs and Helium 10 Differ from Each Other?
While Helium 10 gives an impression of a more feature-rich solution than Seller Labs, don't let that mislead you.
1. Experience and Expertise: Seller Labs vs. Helium 10
Let us "begin at the beginning and go on till we come to the end," i.e., from the moment both companies were initiated till the present day.
Seller Labs was founded back in 2013, four years prior to Helium 10. Seller Labs' team is spread around the globe in 40+ locations, which makes us a cross-cultural organization.
Though it appears to be actively investing in the company growth and solution development, Helium 10 has a much smaller team. Back in 2019, they joined forces with ​​Assembly to continue bringing in the innovation. The same goes for Seller Labs: back in 2019, joining forces with X-Cart to allow Amazon sellers to grow their businesses outside Amazon and build their online presence.
2. Features: Seller Labs or Helium 10
Yes, Helium 10 is more feature-rich than the Seller Labs Amazon seller tool. However, it's not the variety of features that steals the show but the quality of their results. Let's take a closer look at some of the tools and see which ones are instrumental in helping you be successful on Amazon and which are not:
Amazon keyword research & export
As per our experience, manual-targeted Amazon ad campaigns bring 3x the amount of sales automatic campaigns do.
Read on, if you're curious to learn how we have discovered that. We compiled the list of profitable keywords using our keyword research tool, exported them via a .csv file and removed duplicates. Though the automatic campaign received 5x more impressions, the hand-thrown ads were displayed in more relevant searches, hence, resulting in higher conversions.
Another way to use this feature is to execute daily CSV exports, which is a handy way to keep an eye on your Amazon listing performance.
What about Helium 10 exporting features?
Some of the exporting features offered by Helium 10, such as exporting keywords lists, could use improvement. For example, if you cross out the terms that don't apply, it will still export all keywords.
Chrome extension
Both solutions have Chrome extensions to help sellers analyze Amazon data.
Seller Labs' can predict how many potential sales a particular keyword can generate, check rankings, help with product research, and many more. What differentiates it from its competitors is the 'Score' feature that assesses the strength of the keyword in real-time.
What about the Helium 10's Chrome extension?
Helium 10 extension for Chrome is pretty robust and currently contains seven on-browser seller tools. However, it is important to mention that regardless of the number of features it comes with, the app is claimed to be relatively slow.
See the review below:
It [Helium 10] was great at first; then it started slowing down my page. Then it stopped showing up altogether. I eventually uninstalled it. If it were reliable, then I would have kept using it.
3. Data Accuracy
I don't need to tell you that data accuracy is vital when analyzing your competitors on Amazon, and every tiny detail matters when it comes to winning that competition. However, both Seller Labs and Helium 10 have room for improvement in terms of accuracy.
As per Lauren Ward, Product Manager at Seller Labs, there isn't actually a way to quantify the data accuracy without a thorough analysis of each tool, and there aren't any resources to back up this analysis.
Anyways, Seller Labs' data scientists, as well as a dedicated team of product development experts, ensure the accuracy of data to help our customers make data-propped decisions.
Helium 10, in its turn, is claimed to be giving inaccurate best seller rank data, which frustrates users a great deal:
It [Helium 10] is giving wrong best sellers rank (BSR) data on the Chrome extension. It's a shame, but we need accurate data if we want to do in-depth research. It's just not always that reliable.
Users have to double-check as the margins in the report they pull from the Helium 10 app aren't 100% correct. They have to uninstall, change browsers, and clear history to achieve the desired data accuracy and avoid nasty bugs:
Ik moet om de paar dagen alles eraf halen, opnieuw installeren, andere browser kiezen, geschiedenis leeg maken.
Helium 10's FBA tool provides inaccurate data as well, as claimed by its users. Occasionally the Chrome extension numbers appear wrong, and profits are not accurate with Sales Amazon numbers differ.
4. Customer Support
Helium 10's support service, proclaimed to be granted round the clock, is, in fact, a bit slow after the first reply. Their customer service can take a long time to respond to some issues, particularly those involving billing. And the MTTR, the average time it takes to fully resolve an issue, lies within the framework of weeks rather than days.
At Seller Labs we do not lap over the classic eight-hour work schedule, and, surprisingly enough, no one has yet complained about it (keeping fingers crossed!).
5. User Experience: Seller Labs vs. Helium 10
Uncontestedly, Seller Labs Amazon seller software has the most favorable design layout developed to date. You don't need to take this from us, here's what our customers have to say about the tool:
Great experience. Easy to use. Easy to integrate.
A sleek customer dashboard which is not overloaded with features, yet still gives Amazon sellers all the right information to get things done. The left-side panel has transparent navigation and clear labels on each of the menu entries.
To top it off, there's a handy onboarding wizard that guides users through the setup process.
The main issue with the Helium 10's layout is its chaotic and busy layout. Helium 10 offers a prodigious number of tools of every imaginable type, which is a good thing as you have a choice. The problem is in the way they are arranged within the dashboard. All sorts of drop-down menus, slide-out sidebars, loads of banner ads, and clickable elements make the dashboard look overly complicated and not intuitive. Also, some of the menu items are duplicated, which makes things even more complex.
What's more, different fonts are applied to the visually similar design elements, which gives an impression of inconsistency.
Often feels like a series of point solutions mashed together rather than a seamless suite of tools sharing common interface and process management.
6. Extra Services
Seller Labs has three teams of best-in-class specialists:
Marketplace Software: powered by Seller Labs PRO.
Marketplace managed services, such as Amazon messaging optimization, Amazon Stores setup, and other related services.
eCommerce platform development: all efforts into the X-Cart.
What makes Seller Labs unique is the ability to sell on and off of Amazon, which is a major trend. As a result, more and more people are exploring ways to sell things online. The X-Cart enterprise platform creates an easy path for this initiative, providing users with all the tools to create a unique online store that matches their brand identity.
What about Helium 10? It offers additional services Seller Labs lacks, such as reimbursement assistance, coupon abuse prevention, hijaсking monitoring, and many more. However, none of the services has anything to do with building its presence.
7. Community & Education
Seller Labs' team is regularly hosting webinars and teaching merchants how to sell effectively on Amazon and other corollary channels. We've also gathered top eCommerce experts together for Resonate, the elite conference for entrepreneurs and brand owners. The world-class eCommerce experts touch upon the things like growing your brand on Amazon, advertising, and the like.
Community outreach: Seller Labs also works with Toys for Tots, Lydia's Place, and the Northeast Georgia Food Bank non-profit organizations to assist the people in need. See the video below:
Helium 10 has a Project X series in which Bradley Sutton, Director of Training and Customer Success of Helium 10, and Tim Jordan, an experienced eCommerce seller, teach Amazon sellers how to implement cutting-edge technology to succeed on Amazon. They also have a community where merchants can discuss industry news, learn helpful tips and selling strategies, and network with other Amazon sellers.
What's Next?
Now it's up to you to weigh in all the options and make a decision. You can start by creating a free trial of both solutions—it will allow you to play with the interface and form a hands-on opinion about the product assessed.
Regardless of the solution you choose, remember that you can always use Seller Labs' free resources such as our blog, webinars, case studies, and much more. You can also get access to the exclusive content from world-class eCommerce experts here.
Ready to Try Seller Labs to Grow Your Amazon Business?
Start a free 30-day trial with Seller Labs PRO or set up a quick call with one of our solution advisors.
And if you have any questions, feel free to contact us at any time—whether on social media (Fb, Tw, LI), via email, phone, live chat, or in the comments section below. We are here to help.
Helen Golubeva
Freelance SEO Marketing Specialist
Addicted to yoga, interested in philosophy, and totally mad about copywriting. She loves using the power of words to inspire people and help them grow their eCommerce businesses.
Subscribe to Our Weekly Newsletter to Get
Expert-Backed

Tips Straight Into Your Inbox