←
Back to Blog
Amazon Search Terms: Definition & Ways to Optimize [+FAQ]
In this blog post, we'll clarify long-standing confusion around Amazon search terms and keywords.
I. So What Exactly Are Amazon Search Terms Anyway?
Amazon Search Terms are strings of keywords that a shopper types into Amazon search to find a product. Search terms are commonly known as backend keywords because they are hidden in the backend of your Amazon listing.
Note:
Amazon search terms can refer to a search term in general. However, in this article, we'll focus on the specific search term field in Amazon product listings.
Amazon will match customer search terms with seller's keywords in this field to display the most relevant products. Many people forget to enter backend keywords because they are not visible to the customer, however they can instantly boost your ranking in search results.
There used to be various rules for Amazon search terms, and, as a result, lots of confusion between sellers. Read on and allow us to dispel the myths.
Definition of Amazon search terms for experts
Old rule of thumb: 5/50/250, which means five lines of 50 bytes totaling less than 250 bytes.
New rule of thumb: 1/249, which means one search term field totaling 249 bytes.
Pro Tip:
A "byte" is a unit of measurement. 250 bytes usually equals 250 characters, except in the case of letters with accents or foreign language characters.
Definition of Amazon search terms for dummies
When you exceed the predefined character limit of symbols, you'll get a red error message.
What causes confusion?
Many sellers see the total number of 249 and assume that:
Bytes and characters are the same thing — they are NOT.
They have 249 characters to use — this is not true, as a single character doesn't necessarily equal one byte.
Sellers are also confused by whether or not 249 bytes include things like punctuation and spaces.
To remove some of the confusion around characters and bytes, Amazon added a nifty notification. See the screenshot below:
It will let you know that you've exceeded the 250 character limit in the single Search Terms field line.
Note: The less-than-250-bytes limit applies to all marketplaces except Amazon India where it's only 200 bytes, Amazon Japan (500 bytes), and Amazon China (no byte limit).
II. Adding Backend Search Terms on Amazon
Now that you have a basic understanding of what Amazon search terms are and what it is that may cause confusion, let's discover how to find these backend keywords on Amazon.
Log in to your Amazon Seller Central account.
Click on 'Manage Inventory' under the 'Inventory' drop-down menu.
Find the product listing that you want to update and click 'Edit'.
Select the 'Keywords' tab.
Enter your keywords in the 'Search Terms' field. Then, click 'Save and finish'.
III. Key Guidelines For Amazon's Backend Search Terms
There are a couple of things you should keep in mind when optimizing your Amazon product listings for search. Understanding the way Amazon backend terms affect SEO will give you a leg up on your competition.
TL;DR:
Use the space wisely—every byte counts when it comes to backend keywords. Any misleading terms, duplications, and frivolous words could be a red flag to Amazon and/or harmful to your listing's relevance. 
1. Keep the character count under 249 bytes
Recap: Think about your Amazon keywords as a budget and stick with the "1 line, 249 bytes" rule, where some characters cost more than one byte.
Back it up byte by byte (because Amazon is recalculating in real time). Once you no longer get the red error message, you will be able to save your changes.
Wonder why this rule is so important? Here's the answer.
2. "Less than" means just that
Get the number 250 out of your head and replace it with 249. Here's why: Amazon limits the length of the search terms attribute to less than 250 bytes. You don't have 250, you have 249 or fewer.
3. Give your Amazon keywords breathing room
Spaces don't count as bytes according to Amazon, though some sellers have reported inconsistencies. Just to be sure, we recommend using spaces to separate keywords (no need to use commas here) and don't worry about those spaces eating up your byte count.
4. Focus on relevant search terms only
Merchants don't need to repeat keywords that already appear in other attributes such as title, bullet points, product description, and subject line. Once is enough.
All upper and lowercase keywords, and singular and plural forms of the same keyword, shouldn't be added.
Avoid mentioning brand names and other product identifiers — Amazon won't approve of that.
Remember, readability is not a concern. Avoid using stop words such as "a," "an," "and," "by," "for," "of," "the," "with," and so on.
What search terms are considered relevant, then? Synonyms, hypernyms, and even spelling variations. For example, if the word is spelled differently in American and British English, then you should probably add both.
5. Always play by Amazon's rules
You don't want to take a hit from Amazon on your keywords because you didn't know that the guidelines had changed.
Tip: Make it a part of your weekly or monthly routine to read what Amazon has to say in articles like "Using Search Terms Effectively" and "Optimize Listings for Search." Or, better yet, subscribe to our weekly newsletter to keep up with Amazon Seller News and be in the know of the latest Amazon keywords best practices.
6. Double back to your existing listings and check them for compliance
1/249 is new but it applies to both new and existing listings. And what you had in 5/50/250 won't always translate exactly, so if you want a quick peace-of-mind/search term optimization tactic, check your existing listings and make sure that they are as you would like them to be and in the new format.
And while you're there, why don't you use our Amazon backend keyword extractor, Seller Labs PRO? It will help you freshen up your keywords and replace the search terms you used when you first wrote your listing and went with your gut with the ones that are backed up by the actual data.
IV. The Top Reasons For Not Indexing
Actively searching for new search terms and adding them to your listings is a great SEO strategy. It can boost your position in Amazon's search results… but only if you implement it the right way.
So what are some of the reasons for not indexing on Amazon?
The most common mistake — you've added too many keywords.
You forgot to include the term into your Amazon backend keywords' list. (Go ahead and put it there!)
You are referring to a trademark or a brand name — remove it.
You've included words like "new," "on sale," or "available now." Subjective claims, common misspellings, abbreviations, maybe? Offensive terms? Remove them all.
Irrelevant or redundant information such as the wrong gender or out-of-context words. Remove them as well as they won't level your listing up in search results.
Watch this quick video and learn how to use Seller Labs PRO to optimize your Amazon backend keywords and get them indexed as soon as possible.
V. How to Know if Your Product Is Indexed For a Specific Keyword
There are a couple of ways to discover if your product or a competitor's product is indexed on Amazon for a specific keyword. The first two methods are a bit manual:
1. Scrolling down the search results
Shovel up thousands of listings in the Amazon's search results. (No, I don't have time for that either.)
2. Manual reverse ASIN lookup
Now, for a more reasonable approach:
Go to the product detail page if you don't have the ASIN on hand.
2. On the page, go to the URL and locate the 10-digit ASIN. For our example, we'll use our steadfast apple slicer; it's ASIN is B00XTCERLE.
3. Go to the search bar and paste in your ASIN and add a '+' then the keyword you want to check whether it's indexed or not.
If I want to know whether the 'apple slicer' keyword is indexed or not, I would simply put B00XTCERLE+slicer into the search bar and hit enter.
4. If the ASIN is indexed for this keyword, it will then be displayed on the search engine results page.
If it isn't indexed, say for example I search for B00XTCERLE+manzana, the search engine results page will say "Your search "B00XTCERLE+manzana" did not match any products."
Pro Tip: You can use this reverse ASIN lookup method on any product on Amazon. Even though it's a manual process that only verifies if a product is indexed for a keyword, we know it works.
3. Automated Sponsored Product Ads
If you run automated sponsored product campaigns to advertise your products, you may already know that Amazon has a smart algorithm that collects data about clicks and purchases to optimize your ads for better conversions. Check the search terms report to find out which keywords are performing the best.
4. Reverse ASIN lookup with Seller Labs PRO
If you want to sophisticate your reverse ASIN lookup process, then use our Amazon backend keyword tool powered by Seller Labs PRO.
First, go to the product detail page you want to research. For this example, I'll be using the apple slicer, again. Select Show Seller Labs PRO from the bottom right-hand corner on Amazon. Our keyword planner shows 217 keywords for the apple slicer ASIN in a variety of long-tail keywords. You can view the results based on the keyword, time it was last refreshed, search volume, CPC bid, search position and estimated sales. We can narrow down the results for search volume since we want to see what shoppers are mostly looking for. We can then create the search terms report and export all the relevant keywords to a .csv file to remove any duplicates.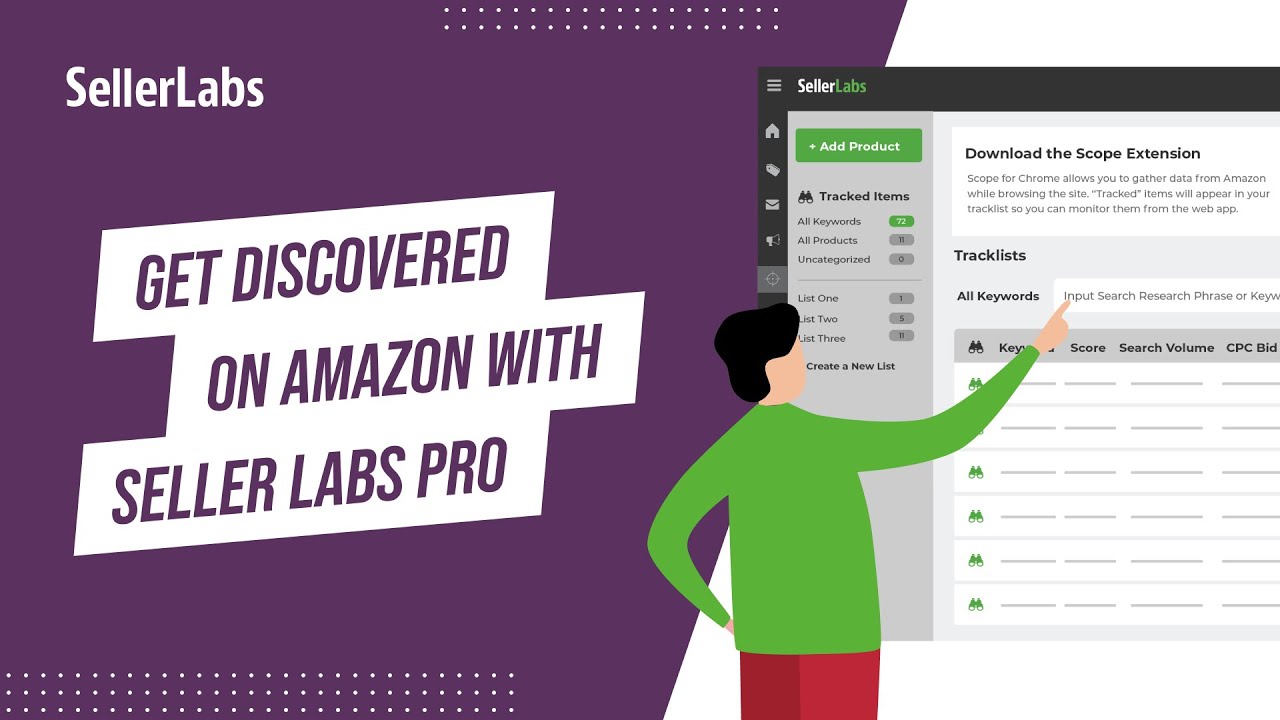 This process will show you which keywords you or your competitors are ranking for, and it will give you a starting place to begin your backend keyword optimization process.
VI. Frequently Asked Questions
Below you will find some of the most common questions asked by our users.
What is the difference between frontend and backend keywords on Amazon?
Frontend keywords are terms used to describe your product's specifications. They are visible to everyone in the Title, Bullets, or Product Description. Backend search terms are, on the contrary, behind-the-scenes. They are only visible to you as a seller, but they do help product indexing.
What's the difference between characters & bytes?
Did you know that yams and sweet potatoes are not the same thing? It's true, but grocery stores often mislabel them.

Characters and bytes are like the yams and sweet potatoes of tech. They seem like they could (and maybe should) be the same, but they aren't.

What's the difference? Well, English-language alphanumeric characters are one-to-one-to-one where one letter equals one character, which in turn equals one byte.

But not so when it comes to:

– Certain signs and symbols ("&" aka the ampersand).
– Unicode symbols aka alt-codes (like ♥, which will cost you the princely sum of three bytes).
– Letters with diacritical marks (like the umlaut, which is ä, ö, and ü in some German words).
– Languages using alphabets other than the English (such as kanji characters in Japanese).
What does 249 bytes indexing mean for Amazon sellers?
This means Amazon third-party merchants need to be extremely cognizant of the keywords they use in their product detail pages. To give you some context, 250 characters is about 40 words, which isn't a lot. So keyword research and optimization are now more crucial than ever to stand out in organic search.

What happens if you hit and exceed the limit of 250 characters?
All your efforts optimizing your Amazon listing will go down the drain — as simple as that. None of the search terms will be indexed by Amazon Search algorithm, which also means your product listing will suffer in search results.
My products are not displayed in Amazon's search results for the targeted search terms. Why is that?
No, that doesn't necessarily mean that you've exceeded your character limit. Amazon uses machine learning to gather data and then, based on the collected information, determine the relevancy of search terms. Some of the terms are deemed irrelevant, so they won't index.
Can I update the search terms in bulk?
Yes, you can bulk upload the backend keywords for your products, by downloading a spreadsheet of an existing listing and uploading it with the terms.
To Sum Up
Optimizing your Amazon product listings using search terms is a must. The biggest challenge is that the process requires quite a bit of time — optimizing keywords for both organic and paid search is not a piece of cake.
However, with hard work and determination, you've got all the chances to win the battle for the first page of Amazon's search results. So keep on crushing it!
Need Help Hacking Amazon's Backend Keyword Algorithm?
Seller Labs PRO Keyword Performance Center is at your disposal.
Stay on top of the latest Amazon keywords best practices
Subscribe to our weekly newsletter to keep up with the latest updates from Amazon.
Helen Golubeva
Freelance SEO Marketing Specialist
Addicted to yoga, interested in philosophy, and totally mad about copywriting. She loves using the power of words to inspire people and help them grow their eCommerce businesses.
Subscribe to Our Weekly Newsletter to Get
Expert-Backed

Tips Straight Into Your Inbox