←
Back to Blog
Grow Sponsored Advertising Sales with Amazon PPC Software
As Amazon expands its offerings each year, sponsored product campaigns become more and more complex. You may have already considered Amazon PPC software, but didn't know where to start.
Amazon sellers want to stand out in a crowded market, and PPC campaigns are the fastest way to do it. If you want to win on Amazon in 2021, an Amazon PPC tool is the only way to gain a competitive edge.
Try Seller Labs PRO Today
Gain full control over your PPC campaigns and get AI-driven suggestions to maximize profits and naturally grow your business.
3 Ways to Improve Ad Performance with Amazon PPC Software
If you've been selling on Amazon for a while, you've probably wondered if Amazon ads really work. There are plenty of SaaS tools that claim to help FBA sellers. Don't trust them unless they can do one – preferably all – of the following: 
Make you more money
Save your time
Lower your ACos & increase your ROAS
Let's go through all three in more detail.
1. Increase Amazon Profits
An Amazon PPC tool can help you act on insights faster, so you get to profits more quickly. By faster, I mean immediately.
Because tools like Seller Labs PRO rely on historical data, you can receive optimization suggestions for ad campaigns right away. You could use trial and error, but a PPC tool saves you time and reduces your month ad spend.
PRO Feature: Optimization Suggestions
Using Seller Labs PRO, automate any campaign. Each automation suggestion has a confidence and importance slider. Select the desired minimum confidence and importance. Click the "Create New" button, turn on the automation, and let the tool do the work. Seller Labs PRO will hit the predetermined target ACoS you set, while saving you precious dollars and time.
Try Seller Labs PRO free for 30 days. >>
When you use Amazon's Advertising Center to make data-driven decisions, you'll get 60 or 90 days of data. However, when you connect your PPC software to Amazon's advertising API, like Seller Labs PRO does, you're collecting data 24/7/365.
More data means more ways to maximize profitability, which equals better campaigns. With a larger dataset of advertising information, you can use artificial intelligence (AI) to create suggestions for future optimizations.
PRO Feature: Suggestion Automation by Type
Seller Labs PRO allows you to automate each suggestion for optimization. We've taken industry best practices and have codified them into an algorithm that analyzes historical campaign performance to offer various types of suggestions. Click the dropdown arrow on an automation to see why Seller Labs PRO is making this suggestion.
2. Manage Your Time More Effectively
Manually selecting individual keywords for a campaign is tedious and time-consuming. If you pick a software that can manage multiple workflows, you simplify complex tasks like keyword research and ad management.
PRO Feature: Bulk Actions
The Bulk Actions feature in Seller Labs PRO allows you to filter the keywords or search terms within a campaign based on certain parameters. Then, use the suggestion engine to analyze the performance of auto-targeted campaigns and create new keywords in your manually-targeted campaigns — automatically.
Start using Seller Labs PRO now. >>
The more advertising data you collect, the more important it is to stay organized. Spend less time in analysis paralysis by getting a single dashboard. The best PPC tools allow you to see how well your advertising campaigns are performing at a glance.
In a one advertising dashboard, you should be able to see:
More than 60 days of data
CSV downloads for external reporting
ACoS & ROAS
Ad Revenue
Clicks
Click-through rate
Cost-per-click
Cost-per-sale
Viewing all the data you need, and none of the data you don't, will eliminate multiple programs for Amazon PPC management, saving you time.
3. Lower ACoS and Better ROAS
The above tips are good advice for selling on Amazon in general. However, nothing is more important for your PPC than your ACoS and your RoAS.
One feature that has a huge impact on both is Amazon Ad Scheduling, which allows you to run campaigns when they have the greatest chance of being profitable.
PRO Feature: Ad Scheduling
Because ads are placed strategically based on time and buyer behavior, Ad Scheduling makes your ads more profitable. Seller Labs PRO lets you spend ad budget strategically and reach buyers at better times.
In order to use ad scheduling, create 12 identical manual campaigns that run in two-hour segments throughout the day using the same keywords, product ads, and bids. After running these 12 campaigns for at least a week, you can determine if certain times or days yield a better ROI.
Don't worry, you can make quick work of creating your campaigns by making 11 duplicates of your original campaign using the Copy Campaign feature in Seller Labs PRO. With this feature, sellers will now be able to duplicate a successful campaign (keywords, bids, search terms, etc.) for another product within the same marketplace.
The most obvious indicators of campaign success are high click-through rates, lower ACoS percentages and conversions.
To show you the power of Ad Scheduling with Seller Labs PRO, we recorded the results after running 12 campaigns. Here's what we found:
From our test data, we were able to conclude that saving the bulk of our budget for ads to run between 4:00 a.m. to 10 p.m. is the best use of our money. And if we wanted to get even more tactical, we could schedule a campaign to run 8-10 a.m., 2-4 p.m. and 6-10 p.m., when revenue and impressions were the highest.
Again, these figures are averages from running the campaigns seven days a week. You can always dig deeper to see which days yield the best results for advertising and then combine that information with the timing of your ads.
Maximize Your Budget with Amazon PPC Software
In order to understand when your ads have the greatest chance of converting, you must use PPC software. Doing so manually using trial and error will increase ad spend, waste time, and frustrate you in the process. An all-in-one tool like Seller Labs PRO will help you execute your strategy effectively, decrease your ACos, and improve your ROAS.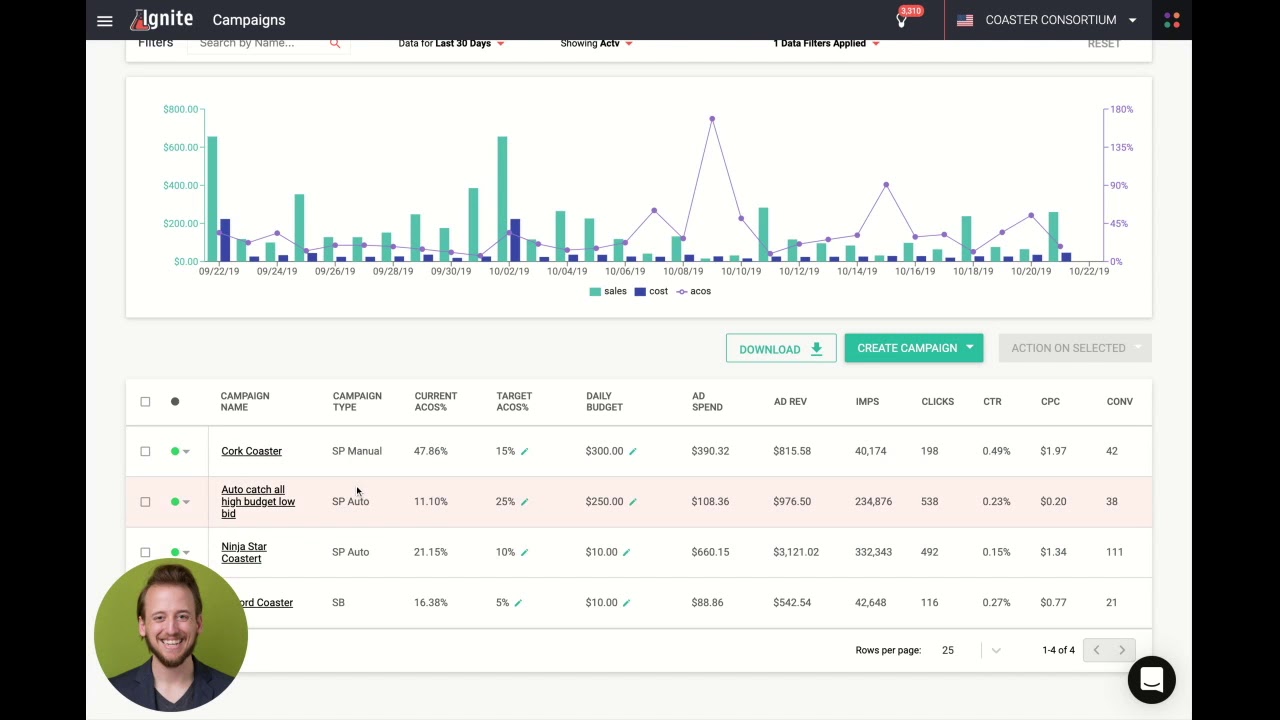 Now that you know about all of the ways that Seller Labs PRO can earn you more money and save you time, it's time to try it out. We offer a free 30-day trial to everyone. This will give you enough time to test out our automated PPC suggestions, and see if the tool works for you.
Want to make more money in PPC?
Lauren Ward
Product Manager at Seller Labs
Lauren is our tech Product Manager at Seller Labs. Our Chief Problem Solver. In her free time, when she's not taking care of our customers needs, she's enjoying the great outdoors - gardening and gathering fresh eggs from her 7 chickens!
Subscribe to Our Weekly Newsletter to Get
Expert-Backed

Tips Straight Into Your Inbox