←
Back to Blog
What Is Amazon A+ Content? A Quick-Start Guide to Creating Your Unique Amazon Brand Story
Do you know what is the most-often missing ingredient in a sales message? A unique and enticing story. For online sellers, marketing is no longer about the product itself but the brand stories they create, especially if you are a brand owner selling on a highly competitive marketplace such as Amazon.
To help brands grip shoppers' attention, Amazon offers an advanced content feature allowing you to add captivating descriptions to the product detail page — Amazon A+ Content.
This article breaks down what A+ Content is, goes through basic content guidelines and restrictions, touches upon the main benefits of adding A+ Content to your listing, and uncovers best practices to showcase your product appealingly.
First Thing's First: What Is Amazon A+ Content?
Formerly known as Enhanced Brand Content (EBC), A+ Content is a unique tool inside Seller Central that allows brand owners to customize listings by combining elements such as high-quality images, enhanced product descriptions, comparison charts, videos, and FAQs.
Thus, while Amazon listings are limited to eight pictures, 5-10 bullet points (depending on a product category or merchant type), and a plain text product description of up to 2,000 characters, A+ Content offers brand owners a more effective way to engage with potential customers.
The idea behind multimedia type of content is to provide an outcoming shopping experience, drive more traffic, and increase conversion rates. Below is an illustration of how A+ Content enhances the visual impact of a product description.
You can choose from 17 different types of content that can be used to:
highlight key product features
answer common customer questions
elaborate on the product usage recommendations
specify product's competitive advantages
share your brand story
Here's a quick bird's eye view of A+ Content module options:
Brand owners have two options to add A+ Content to their listings: Self-Service or Amazon Builds for You.
When using the Self-Service option you can add up to five content modules to each product page, as well as a logo and a basic text description. If you choose Amazon Builds for You, you should upload your text and images, and Amazon will do the rest.
Is A+ Content Indexed by Amazon?
Amazon search engine currently doesn't index the A+ Content. So, it is more about more efficient customer engagement and building trusted relationships with your buyers than contributing to product visibility on Amazon. However, text and images in the A+ Content are indexed by Google, which helps your product appear in Google search results.
Who Is Eligible to Creating A+ Content?
A+ Content is available to sellers and vendors whose brands are enrolled in Amazon Brand Registry. Amazon also enabled this tool for emerging brand owners, currently working with managed selling programs like Amazon Launchpad or Amazon Exclusives.
Side note:
Brand owners can add A+ Content to up to 500,000 ASINs at a time via bulk upload. Please mind that you can apply this feature only to the items that are a part of your approved brand catalog.
What is Amazon A++ Content?
Amazon A++ Content, AKA Premium A+ Content is an invite-only option that gives brands access to even more modules, such as interactive images, slider galleries and video loops.
It can be an excellent solution for larger brands with feature-heavy products requiring more details and explanations, such as dimensions, color, size, and so on. For example, Premium A+ Content is used by such brand behemoths as Samsung, Apple, and Sony.
A+ Content
Free
Available to members of the Amazon Brand Registry
Access to basic content modules, such as images and logos
Use up to five modules per product description
Access to 12 module options per page.
A++ Content
Amazon doesn't disclose the cost of its Premium A+ Content. Rumor has it that it may vary from $250,000- 500,000 per year. With the latest update, this feature is available for free during the promotional period.
Available by invite only
Access to basic and interactive content types, including videos and testimonials
Use up to seven modules in a product description
Access to 17 module options per page, including premium features like:

content carousels
HD video
clickable comparison tables
full-width imagery
clickable Q&A feature
If you have published your A+ brand story across your ASIN catalog and have had at least 15 A+ content projects approved in the past 12 months, for each Amazon storefront, you are eligible for Premium A+ Content. At the start of each month, Amazon re-evaluates the eligibility of brand owners for Premium A+ Content. If you meet the criteria, you will see a banner within the A+ content manager notifying you of access.
During the promotional period, brand owners can publish Premium A+ Content for all registered ASINs using A+ content manager at no cost. For more information on the A++ feature go to Get started with A+ Content.
Getting Started with A+ Content
If you're part of Amazon Brand Registry, here's an easy to follow step-by-step walkthrough to set up A+ Content on Amazon:
1. Log into your Amazon Seller Central account.
You'll find the A+ content manager under the Advertising tab.
Important note: If both a vendor and a seller submit A+ Content to the same product, Amazon will prioritize the vendor's content.
2. Select the type of content you'd like to create.
On the A+ content manager page, click on "Start creating A+ Content" to find a relevant template for your brand's A+ Content: Basic or Brand Story.
3. Fill out the content details.
Follow on-screen prompts to name your content and choose the language, then click "Create Module". This will open a variety of layouts and module creation options.
4. Select your content layout and add modules.
Amazon will also suggest modules for you based on your product categories. You can disable recommendations if you don't need them.
5. Add text and images.
Your A+ Content should be an extension of your brand. So, make sure your design and copy are consistent with your brand's content, visual or written, on other platforms.
Pro Tip: Make sure you have alt attribute texts containing relevant keywords for every image you upload, as they are the only words in A+ Content indexed by the Amazon search engine.
6. Apply A+ Content to the ASINs in your brand's catalog.
If you're not sure about where to start, Amazon will recommend the high-traffic listings that benefit most from premium content. Updating the descriptions of complex or frequently returned products is also a good idea.
7. Review and submit.
You have the option of previewing what your product description looks like on desktop and mobile devices. Once you're satisfied with its appearance, submit your design for approval. You can submit up to 20 pieces of A+ Content at once.
Amazon A+ Content Guidelines & Restrictions
We've put together the main things to bear in mind when creating A+ Content:
DO

DO NOT

Stick to the Amazon policies and category requirements.
Check the module's requirements like image resolution and size.
Make sure that you have all necessary rights for the images, text, and videos.
Create comparison charts between products owned by the same brand.
Make your text unique. Using original content will ensure Amazon's content moderation system doesn't flag your listing.
Upload thumbnails in JPEG and PNG formats only. Thumbnail image must be a 16:9 aspect ratio and a suggested minimum width of 1920px.
Upload videos with the accepted formats: 3GP, AAC, AVI, FLV, MOV, MP4, and MPEG-2.

Do not specify any contact or shipping information in product descriptions.
Do not use copyright, trademark, or registered symbols like ™ or ®.
Do not mention competitors or the products that they sell on your pages.
Avoid debatable claims, opinions or time-sensitive comments like "top-selling", "#1", or "the best".
Do not mention any guarantees or warranties.
Avoid referencing your company as a seller or distributor.
Do not use hyperlinks, external web links, or language attempting to redirect shoppers to other sites inside or outside Amazon: that is prohibited.
Find detailed guidelines in Seller Central.
Best Practices to Make the Most of A+ Content on Amazon
Here's an effective A+ Content formula that looks relatively straightforward:
Showcase your logo
Use full-width lifestyle photos illustrating instructions for use or assembly
Highlight key benefits and features
Address customers' common questions in a FAQ section
Plus 7 Tips From the Seller Labs Experts
1. Give Customers a Consistent Brand Experience
Approach your A+ Content from your customer's point of view and think about the main incentives that make shoppers click the "Add to cart" button. Answering questions in your listing lets your customers know in advance what they are purchasing. Look at your product reviews to spot potential blanks in your product descriptions.
Selling a story is about helping potential customers feel like your product is not just stuff and things, but a lifestyle addition. Plan the content like a journey to guide shoppers down the funnel and inspire them to buy by showing the changes this product can have on their lives
2. Spy on Your Competitors
Learn from the competition and then overtake them. Peek at your competitors' reviews and their customers' questions to grasp the idea of what's common in their niche. By the way, Seller Labs Pro can back you up while tracking your competition and help to discover what buyers are looking for as they shop.
3. Use Professional Photos
Images showing the product in real space and used by people are the holy grail of customer retention. Think of Amazon A+ Content as an investment and use brand assets that proudly showcase your brand story. High-quality brand images can be used throughout your marketing, on Amazon, and elsewhere.
4. Avoid Overstuffing Your Product Pages
Keep your content clear and straightforward. Filling templates with too much information can clutter your page and confuse buyers.
There are plenty of modules offered in Basic A+ Content, but as they are Amazon-branded they may look somewhat cookie-cutter. I prefer headers because you can pack them with your brand's style and upload as many headers as you like.

If not headers, I also highly recommend comparison charts as a free real estate for your product line.
Tumi Akin-Deko
A+ Content Expert on the Seller Labs Services team
5. Test Different Approaches
As any other part of product listing, A+ Content has to adapt and evolve with the understanding of buyers' engagement. Therefore, Amazon provides an A/B test to understand what kind of content resonates more with your audience.
6. Upload Videos to Your Amazon Listings
Using videos on your Amazon listings is a shortcut to present the value of your product in a way that static images can't communicate. Furthermore, your video should resonate with the main shoppers' pain points and present a solution that your potential customers will gain with your product.
Bryant Garvin, a Growth Advisor to DTC and eCommerce Brands, uncovers best practices of creating an ideal video for your product listing.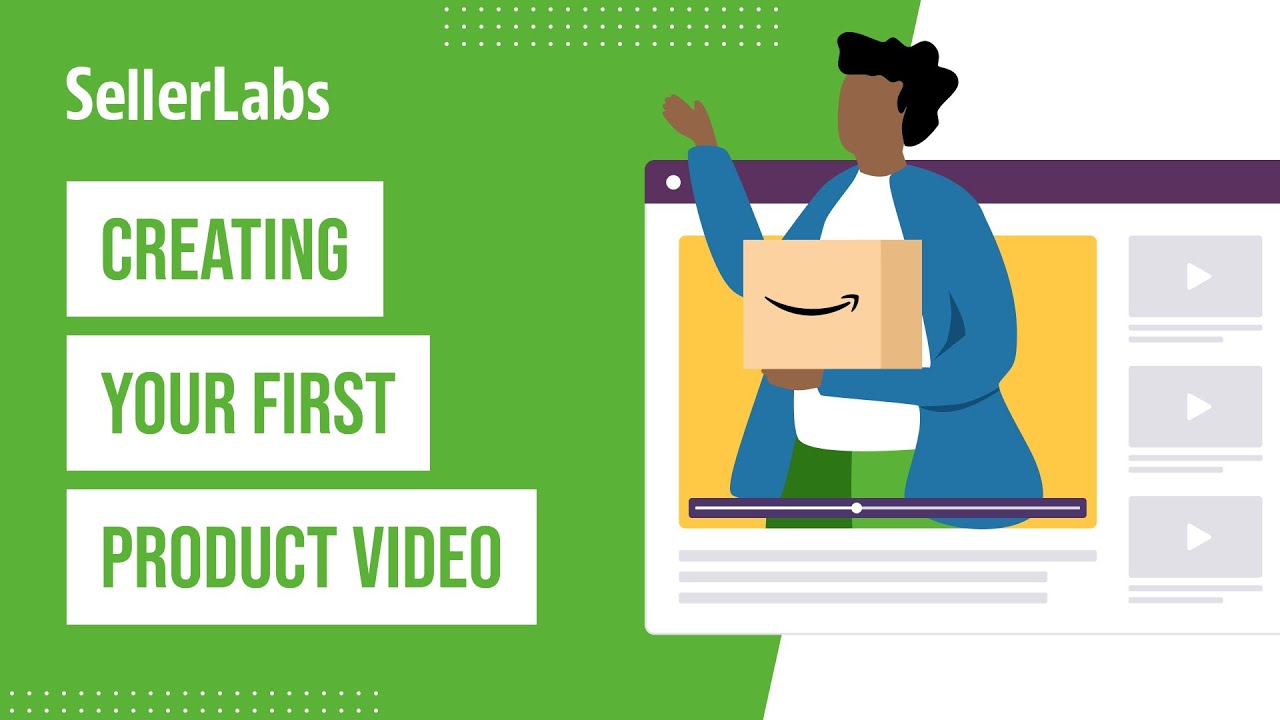 If you are not sure about where to start with your first video, here are the three video ideas:
Explainer video is ideal for products that are complex or innovative. It presents how your product works and thus enhances the customer shopping experience.
Product showcase video is a great option if you only have static product images. It allows you to show your product from different angles along with animated text that highlights key features.
Brand story videos can help you stand out of the competition. If you are in a market with very little differentiation between your products and those of your competitors, a brand story video can make all the difference.
Side note:
Sellers with access to A++ Content can upload a video, which will display in the main image block of their product detail page. In addition, uploaded videos will appear in the Amazon Video Shorts section.
7. Express a Social Message
Choose a social message that aligns with your brand's values and present it on your product page. For example, 85% of consumers say they prefer to buy from a brand that gives back to charity in some way.
How Brand Owners Can Benefit from Amazon A+ Content
Higher Conversion Rates
With enhanced product descriptions, you help shoppers make informed decisions and increase the likelihood of a purchase.
Increased Sales
According to Amazon, A+ Content, on average, increases sales by 3-10%. At the same time, the company claims that implementing Premium A+ Content can increase your sales by 20%!
Brand Trust
With skilfully created A+ Content, you establish a long-lasting relationship with customers. As a result, you have more repeat purchases and higher chances of positive reviews.
Lower Return Rates
Relevant and easy-to-digest details about the product help customers make familiarized purchase decisions which leads to fewer returns.
Competitive Edge
Customer-oriented product details win shoppers' attention and help you stay ahead of the pack.
Memorable Shopping Experience
Visual illustration of your brand helps shoppers distinguish your items from those sold by competitors. What happens is that customers recall your products to come back for the next purchase.
Organic Traffic
With A+ Content you make your content stand out on Amazon, and raise the awareness of your brand off the marketplace. So, you can consider this content feature an additional free advertising channel.
FAQs
1. Can I preview Amazon A+ Content?
Yes. With the recent update, Amazon A+ content manager will allow you to see a preview of both your desktop and mobile version on the same screen.
2. How can I set up A+ Content A/B tests?
Amazon only lets you test high-traffic ASINs to determine a winner at the end of the experiment. No more than 500 ASINs can be applied to A/B tests.
3. How much does Premium A+ Content cost?
Amazon A++ Content costs are negotiated between the brand and the vendor manager at Amazon. Usually, it will cost between $250,000 to $500,000 per year.
4. How long does it take for Amazon to approve A+ Content?
Typically, A+ Content approval takes up to seven days. However, we recommend keeping an eye on the status of your content within Seller Central in case it is rejected due to unintentional Amazon's policies or category requirements violations.
Wrapping Up: Is A+ Content Worth It?
Although it's up to you to decide whether you should utilize A+ Content, the Seller Labs Services experts are convinced it is worth your time and effort.
Creating enhanced listings is the ideal way to boost your brand awareness, expand your customer base, and drive sales. All it takes is the proper knowledge and skill. And this is where the Seller Labs Services team can help you out. We've mastered a host of enhanced listings for our clients with various market niches: from Pike Trail hiking accessories, to handmade jewelry offered by Ezina Designs.
On top of creating impactful content for your product detail pages, we keep a sharp eye on your overall listing performance, pulling the right levers to gain the maximum visibility of your product on Amazon.
Want Impactful A+ Content?
We are here to help you with listing optimization.
Maria Navolykina
SEO Content Specialist at Seller Labs
Maria is an SEO Content Specialist at Seller Labs. Once captured by digital and content marketing in her student days, she keeps living and breathing it ever since.
Subscribe to Our Weekly Newsletter to Get
Expert-Backed

Tips Straight Into Your Inbox