←
Back to Blog
Creating Videos on Amazon Listings
This blog post was originally contributed by Leah Diviney, a Copywriter at Biteable.
Is adding videos on Amazon listings actually worth the effort? After all, high-quality pictures give buyers a good deal of information about a product. Unfortunately, they're not enough anymore.
Amazon A+ Content (formerly known as Enhanced Brand Content),  helps your listing stand out in the middle of all the noise. This is especially true for video modules.
Across the board, video greatly enhances the customer buying experience. Uploading your video on your Amazon listing converts browsers into buyers, and turns a stagnant listing into one that consistently converts.
But before you start worrying about sky-high production costs and dwindling margins, here's the good news: you don't have to spend much time or money to add videos to all of your ASINs.
CHAPTER I
Why Include Video in Your Amazon Listings?
Online shoppers want the convenience of e-commerce, but it's hard to replace the experience of holding a physical product in your hand. For many online shoppers, this type of up-close customer experience is still important.
TLDR:
Video converts online shoppers.
Video comes as close as possible to re-creating the in-person experience. Using videos on your Amazon listings communicates the value of a product in a way that static images and text just can't touch. Bryant Garvin said it best in the video below.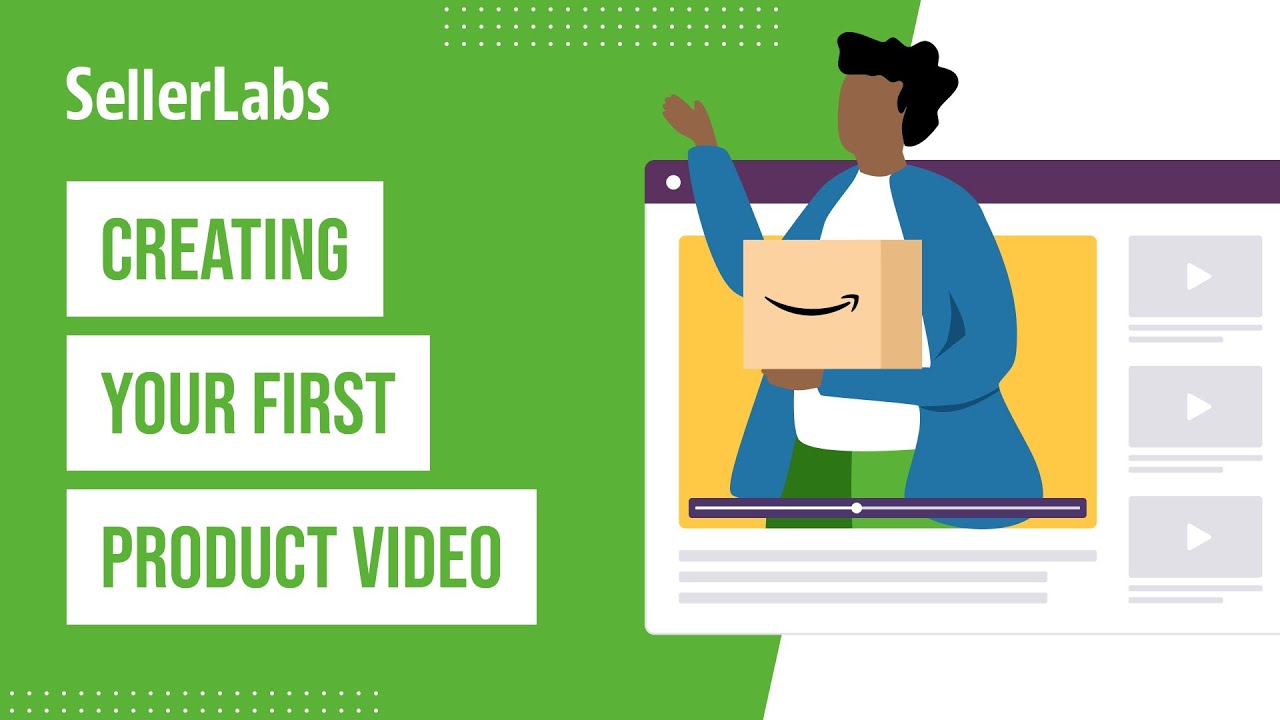 Today's savvy buyer also does plenty of product research. And as the stats show, many consumers prefer their product research in video form. If you still don't believe me, try these numbers on for size:
CHAPTER II
How to Upload Your Video to Your Amazon Listing
Your video options depend on your Amazon selling program. If you are brand registered, upload your videos in Seller Central. Uploading videos is also available to Amazon vendors via Vendor Central.
Confused on the Difference Between Amazon Vendor Central and Seller Central? Check out your options below.
Once you upload your video, it appears on the main image block of your ASIN's product detail page. It also shows up in the Amazon video shorts section or in your Brand Store.
CHAPTER III
Create Amazon Listing Videos Without a Video Shoot
If you have the time and resources for a full video shoot, well, most of us don't.
Here's a little secret: you don't need to shoot a single second of video footage to create a compelling listing video. Take a good look and you'll notice a solid majority of Amazon sellers and vendors don't include any actual footage in their listing videos.
Here are a few easy ways to upload video to your Amazon listing without a photo shoot:
Turn a static image into a "moving" one by panning in/out or up/down
Photo transitions turn a slideshow into an instant video
Animated text overlaid on static images creates a sense of movement
Use stock video footage when moving images are absolutely necessary. Just be careful the footage is generic and doesn't showcase products that could be mistaken for your own.
Best Practices for Using Videos on Your Amazon Listings
Creating video ads for use on your Amazon listings is easier than it sounds, but it's still important to keep an eye on quality. A slapdash video does more harm than good. In the eyes of the buyer, a low-quality video translates to a low-quality product.
Your videos should seem professional, even if they aren't professionally produced. For consistent results on your video product listings, follow these best practices:
1. Keep it short and sweet 
Amazon doesn't restrict listing videos to a certain length (although they cap video size at 5GB.) However, when it comes to video ads, short and sweet is usually best. At Biteable, we generally recommend fifteen seconds or less.
In those fifteen seconds, timing is also key. You have about five seconds to capture a viewers attention, so make those first five seconds count. Feature your product in the initial second of the listing video, and capture the core of your message within the first five seconds.
Stuck on how to make this timing work? An Amazon ad template can help you pace your video just right.
2. Use consistent branding 
You want to make that quick sale, but you also want to create loyal buyers who return to your products again and again. Using consistent branding with the help of Johnny Chen Media helps buyers easily recognize, and remember, your products.
Across all of your ASINs, add a logo to the end of each video. Use similar fonts and color schemes for text overlays. When choosing background music, stick to a general theme: if rock and roll fits your brand, stay in that lane. If classical is more your style, keep it classic every time.
3. Pay attention to text, captions, and music
Many Amazon buyers watch listing videos with the sound off. Use captions or on-screen text and graphics to convey important information so sound-off viewers don't miss anything.
But for buyers who want sound, background music is like the bow on the present. Royalty-free music is easy enough to include, and it makes your listing video seem polished and professional.
4. Consult the stats
As of early 2020, Amazon now makes viewership metrics available on your A+ video content. This includes viewing stats and engagement data for your listing videos.
Use these stats to look for things like sales trends that correspond to increased or decreased video viewership or ASINs for which your listing videos don't get as many views. Depending on what you find, you may want to tweak your strategy.
CHAPTER IV
Ideas for Your First Amazon Product Video
Now that you understand best practices for Amazon listing videos, here are five video ideas to jump-start your creativity.
Explainer video: Showcases how your product works. This greatly enhances the customer shopping experience and is ideal for products that are complex or innovative.
Product showcase video: A great option if you only have static product images. This is also a good supplement to the information included in your product detail page. Showcase your product from different angles along with animated text that highlights key features.
Brand story video: Buyers love a unique origin story or a company with a charity component. If you are in a market where there is very little differentiation between your products and those of your competitors, a brand story video can make all the difference.
Customer testimonials and video reviews: This takes more production effort. But if you are a big brand with loyal customers and loads of positive customer reviews, video testimonials are worth their weight in gold. One glowing video review can negate fifty negative reviews in a heartbeat.
Promo video: AKA a commercial. This is the full meal deal. It showcases your product and your larger brand all in one. It's definitely not the right fit for every situation, but a well-made promo video gives you the chance to showcase your product in use in the real world.
Remember, your Amazon listing video isn't the time for an everything-but-the-kitchen-kink approach. Resist the urge to include every single product feature. That's what the product detail page is for.
Instead, think of your Amazon listing video as the highlights reel. Help viewers imagine themselves tomorrow or next week, happily using your product. Spend your 15 seconds convincing them that your product will make their life better, or solve a specific problem, or just generally make them a more fulfilled human being. After all, we humans make our purchasing decisions largely based on emotions.
Now that you've created a video, where do you put it? Consider putting a video in A+ Content, formerly known as Enhanced Brand Content.
Jessica Wright
Senior Brand Strategist, Seller Labs Managed Services
Jessica Wright is the in-house "Amazon Genius" for the Seller Labs Managed Services team. Her focus is working with our team members and clients to educate and answer tough Amazon questions in areas outside of PPC advertising. With 15 years of manufacturing and eCommerce experience on both the brand and agency sides of the business, Jessica is knowledgeable in all things Amazon and is constantly seeking out the latest updates to help Seller Labs clients stay ahead.
Subscribe to Our Weekly Newsletter to Get
Expert-Backed

Tips Straight Into Your Inbox