←
Back to Blog
The Wait Is Over! Ignite 2.0 Is Here and Ready to Rock Your Business! 
Welcome to Ignite 2.0, the revolutionary Amazon Advertising platform that will take your business to new levels of success. With the new Ignite, we've taken everything that made classic Ignite must-use software for sellers advertising on Amazon, and we've made it even more intuitive and more powerful. We've even added innovative features that you won't find in Seller Central or third-party ad-management software. We think you'll love what you see and all that you can do.
What's New in Ignite 2.0?
Fresh Dashboard
The first thing you'll notice about the new Ignite is the gorgeous dashboard with bold info blocks and graphs that don't mess around. This time-saving display and control center presents the data you need ASAP in order to assess performance and execute profitable actions. It looks great and it takes care of business.
And once you've interacted with the new user interface…
Go ahead and dig deeper into your campaigns and their components like keywords and bids, as well as business tools like exportable reports. There's so much amazing stuff in Ignite 2.0.
Here's just a handful of the new features you'll want to check out:
More stats, graphs, and action items to help you get down to business ASAP
Bulk actions and uploads and updates to save you time
Customized campaign groups for super-informative granular report slices
Alerts and notifications so you never miss opportunities
All-new sophisticated Suggestions engine to guide you to optimal bids and keywords
And those are in addition to everything Ignite already delivers, including:
Centralized management for up to 7 global marketplaces
All of your Sponsored Products Ads and Sponsored Brands Ads (formerly Headline Search Ads) in one place
Ad Scheduling (Dayparting) to maximize your budget
Everything that made the original Ignite a game-changer in the industry
So What Does This Mean for You and What Are Your Next Steps?
In short, no matter what your situation, if you advertise on Amazon, you're in for an absolute treat when you get to know the new Ignite 2.0! Here's a video tour of the brand-new features.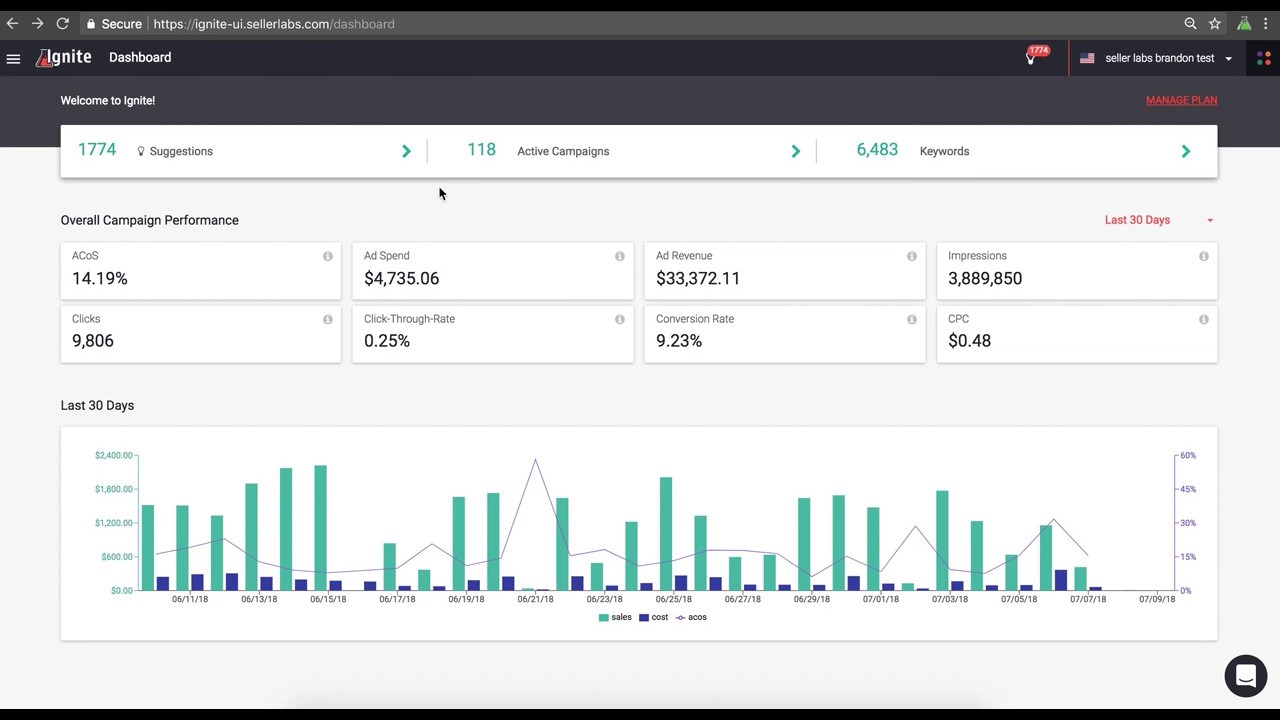 Current Ignite Users: Simply log in to the Ignite app and you'll see a light-blue bar with a friendly announcement about the availability of Ignite 2.0. Clicking on the link there will take you to Ignite 2.0 where all of your account info and campaign data is ready for you. It's that easy! A few other bits of info:
No, classic Ignite won't disappear once you try 2.0. You can continue to use it through August 15, but after that date, it's Ignite 2.0 only.
And nope, at this time there are no changes to your current Ignite pricing.
Folks Not Yet Using Ignite: Now is the perfect time to start! Go ahead and grab a free 30-day trial of Ignite 2.0 so you can really interact with this powerhouse ad platform and see just how it can add profitability and efficiency to your Amazon business.
Ad Agencies, Consultants, PPC Managers, and Power Users: We'd never forget about you! For your needs, we've created Ignite Plus! It's a scalable, robust, full-featured Amazon Advertising platform created just for users who manage multiple brands and accounts and users. Ignite Plus is all about power, control, growth, efficiency, and results. It is a boss.
Sellers Looking to Focus Their Time on Business-Builders Like Sourcing and Marketing: For you, we offer Seller Labs Managed Services where our team of experts handles all of your Amazon Advertising activity for you so you're free to focus your talents and efforts elsewhere.Whether you're an existing Ignite user, using a different solution, new to Amazon Advertising, or you're an ad agency or PPC consultant looking to manage multiple brands, the all-new Ignite 2.0 is your ticket to better revenue, ACoS, and brand recognition. Welcome to your Amazon Advertising advantage!
Lauren Ward
Product Manager at Seller Labs
Lauren is our tech Product Manager at Seller Labs. Our Chief Problem Solver. In her free time, when she's not taking care of our customers needs, she's enjoying the great outdoors - gardening and gathering fresh eggs from her 7 chickens!
Subscribe to Our Weekly Newsletter to Get
Expert-Backed

Tips Straight Into Your Inbox