←
Back to Blog
How Brands Maintain Control and Create Profits on the Amazon Channel Webinar Recap
This a recap from the How Brands Maintain Contol and Create Profits on the Amazon Channel webinar with special guest James Thomson from Buy Box Experts and the Prosper Show. Please watch the replay to hear the Q&A at the end. The main point of the webinar was that sellers need to be thinking about how their brand is represented on Amazon.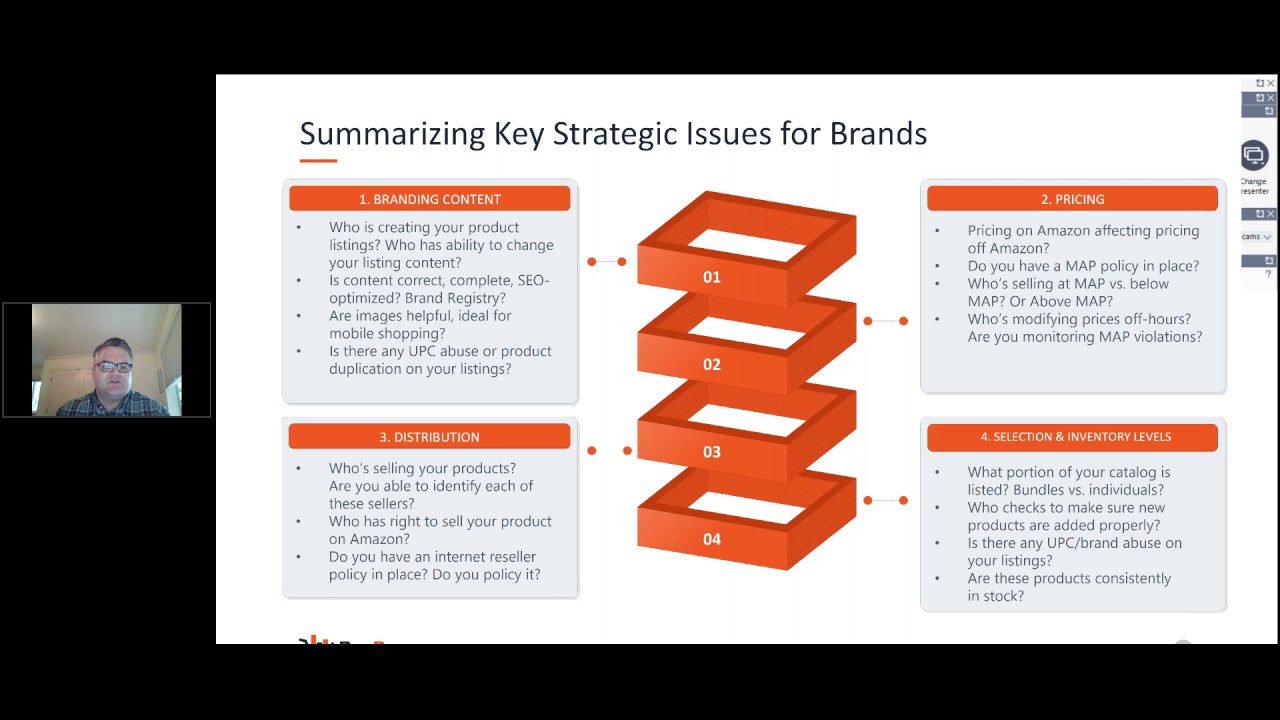 This a recap from the How Brands Maintain Contol and Create Profits on the Amazon Channel webinar with special guest James Thomson from Buy Box Experts and the Prosper Show. Please watch the replay to hear the Q&A at the end. The main point of the webinar was that sellers need to be thinking about how their brand is represented on Amazon.

Key Strategic Issues for Brands
Every brand needs to ask itself two major questions
Do I want my brand sold on Amazon?

It doesn't matter if you want your brand sold on Amazon. As your brand grows, chances are your brand will end up on Amazon anyway.
People are creating listings on Amazon to sell products that could be your brand. The detail pages probably won't be what you'd expect.

What distribution approach makes the most sense for a brand?
There are a number of things brand owners need to control. What needs to be controlled on Amazon is the Branding Content.
If you created brand equity and have made promises to consumers, you need to control how your brand is perceived. If you don't have control, you risk your brand being poorly represented. This will damage your brand. At a minimum, sellers need to ensure that their product content is locked down on Amazon. This is true even if you don't want to sell on Amazon.
If somebody creates a poor listing on Amazon, it's entirely possible that Google could index that listing due to the amount of traffic it receives. A poor-quality listing could end up with a better ranking on Google than one that you've created or your own website.
Amazon is a massive location for product content. If you don't manage that content proactively somebody else will.
Who's creating your listing?
Who is making sure the content is being created according to brand voice and tone?
Who is optimizing the content? This is especially important for brands that want to use Amazon as a sales channel. Either way, your product detail page needs to be optimized for shoppers who are doing product research.
It's not uncommon for sellers to create new UPC codes, which creates duplicate listings.
Regardless if you sell on Amazon or not, you need to make sure your product is being represented correctly on Amazon.
What does your pricing look like on Amazon?
Most brand owners discover that their product is being sold on Amazon because the price is inconsistent from other marketplaces.
The price on Amazon needs to be consistent with the MAP in brick and mortar locations. If not, you could have unhappy distributors.
Most of the time, brick and mortar partners complain to brand owners about the pricing issues on Amazon.
Do you have a MAP policy in place?
What can brands do if their products are being sold by unknown companies on Amazon for 20% cheaper or more?
Are you in control of your distribution?
If you can't control what's happening with your distribution then chances are you won't have a meaningful voice around how your product is being priced on Amazon.
Who's selling your product and can you identify these sellers?
Have you given specific companies the right to sell your product on Amazon?
Have you put together an online reseller policy?
Understand that there are laws in place with regards to how you enforce if someone can or cannot sell your product on Amazon.
There are paths in which you can limit who can sell your products on Amazon.
There are companies operating under DBAs and there are professional gray market sellers. It's possible a brick and mortar partner is selling your products on the side.
Amazon has no interest in discussing the distribution strategy of a brand. It's up to the brand and its retailers to come up with a distribution strategy.
A brand must work out distribution strategies outside of Amazon.
How do brands control selection and inventory levels on Amazon?
What portion of your catalog is listed?
Who checks to make sure new products are added properly?
It's possible for brands to have multiple resellers and have their products stock out during popular times of the year due to poor planning.
Amazon punishes detail pages that go out of stock by suppressing a listing's search ranking.
Once you address the concerns around the four key pillars and issues for selling on Amazon, you can move on to identify the other main distribution models a brand can use.
Common Approaches to Selling on Amazon
Two critical issues facing brands today
How much control does a brand have with what's going on with it on Amazon?
How much daily effort is involved with maintaining brand equity on Amazon?
Brands wholesale to Amazon (1P)
Most brands have no proactive plan. Resellers are selling without any brand guidance. This can be authorized and unauthorized resellers, or no brand guidelines at all.
An easy first-choice for brands to maintain control on Amazon is to wholesale their products to Amazon. The idea is that this will help control inventory levels and pricing. But this doesn't always remedy the situation. If a brand doesn't have control of its pricing, Amazon will match current prices on its site and other sites for similar products being sold. Amazon wants to be the low-price provider of a brand.
Brands adopt hybrid approach of 1P and 3P
This approach helps to ensure a brand's products always remain in stock.
Brands will have products sold by first and third party sellers. They may work with authorized sellers to ensure their products are always in stock.
The goal is to allow different companies access to the inventory to create a contingency plan.
Other models
Brands selecting specific resellers to represent their brands. These resellers may become the seller themselves or they'll pick one reseller to maintain detail page content.
Brands can become the seller of record but the day-to-day operations of a 3P account are handled by another organization. This allows the brand to focus on product sourcing and development.
Ultimately, a brand needs to have some sort of a plan at the very least to manage how their brand is being represented on Amazon.
Key Considerations for Selecting an Ideal Distribution Strategy
Here are trade-offs a brand needs to consider when planning its distribution strategy. All of these issues need to be considered as a brand determines what distribution model they want to use. This will help a brand proactively manage their brand on Amazon and other sales channels.
[one_third_first]
Financial
Control over pricing
Cost of selling
Sales velocity
Profit margin
Getting paid
Internal Operations
Control over branding
Sales tax nexus
Staying in stock
Daily involvement
Building customer product reviews
Amazon-Facing Operational
Multi-channel fulfillment
Selling into other Amazon marketplaces
Addressing counterfeits
Proof of delivery
Limitation to listing attributes
Final Thoughts
Brands need to think about what it means to sell on Amazon; it's not simply just another sales channel. If you don't have your distribution strategy in place on a global level, all of the negative aspects will surface on Amazon. If you haven't thought things through, they will show up on Amazon and create problems. Other companies will start to make decisions about your branding and inventory. Amazon is a unique channel because it has such an extensive reach and impact.
Pick up The Amazon Marketplace Dilemma for more on how to protect and manage your brand on Amazon.
Jessica Wright
Senior Brand Strategist, Seller Labs Managed Services
Jessica Wright is the in-house "Amazon Genius" for the Seller Labs Managed Services team. Her focus is working with our team members and clients to educate and answer tough Amazon questions in areas outside of PPC advertising. With 15 years of manufacturing and eCommerce experience on both the brand and agency sides of the business, Jessica is knowledgeable in all things Amazon and is constantly seeking out the latest updates to help Seller Labs clients stay ahead.
Subscribe to Our Weekly Newsletter to Get
Expert-Backed

Tips Straight Into Your Inbox