←
Back to Blog
Changes to Amazon Messaging Policy for Buyers & Sellers
With every rule change to Amazon messaging, sellers struggle to understand updates. What's okay to do? What's not okay? What could lead to suspension?
At Seller Labs, we understand the confusion. We're here to make Amazon messaging as clear as possible. Here are the biggest things that people forget:
You can ask for reviews in buyer messages. We've always understood this to be true, but the latest update explicitly says it.
You can use third-party apps for seller communication. The approved third-party applications are listed in the Amazon Marketplace Appstore, and Seller Labs PRO is absolutely approved.
TL;DR
1. You can ask a buyer for a review
2. You can use Seller Labs PRO to ask buyers for reviews
CHAPTER I
Updates to Amazon Messaging
The Amazon customer communications policy, including Buyer-Seller Messaging, changed on September 8, 2020. The introduced changes aim to:
Limit marketing or promotional messages.
Improve the quality of messages that sellers send.
Protect buyers from fraud and abuse, and to protect sellers from unscrupulous actions from competitors.
Now let's get into the details of the messaging policy and what changed in the Amazon Communication Guidelines. The changes primarily affect the language and formatting of customer communications. They are fairly small and in keeping with both common sense and good customer service.
Amazon sellers may ask a buyer for a product review or seller feedback ONLY ONCE per purchase.
Yes, you can still use third-party software such as Seller Labs PRO. Seller Labs has made policy-related updates within Seller Labs PRO. To learn more about what Seller Labs is doing to keep you compliant, read this article.
Lots of personalization options were were taken away. Here's the full list:
Do Not Include Any of These Styling Elements in Messages:
Known accessibility issues as specified in the Web Content Accessibility Guidelines from the Web Accessibility Initiative
Emojis 🙁
GIFs
Message margins over 20% maximum width
Image or graphic sizes larger than 80% maximum width
Overrides of Amazon's default line height, font family, or font color
Fonts in more than three sizes
Message bodies that are centered or otherwise override default text alignment settings
More than two line-breaks (spacing between paragraphs) in a row
Insecure image files (http instead of https)
What didn't change?
In any communication you have with buyers (including shipping box inserts), you cannot ask them to leave a positive review. This has always been true.
Similarly, you can not only ask customers who had a positive experience with your product to leave a review. It has always been prohibited to offer them any compensation for a review, including money or gift cards, free or discounted products, refunds or reimbursements, or any other future benefits.
CHAPTER II
Compliance with the New Amazon Messaging Policy
Effective Tuesday, September 8, 2020, Amazon began rolling out policy changes to its Communication Guidelines. You can read the full list in Seller Central, but here are some do's and don'ts:
| DO | DO NOT |
| --- | --- |
| Send messages within 30 days of order | Send order or shipping confirmations |
| Send messages to customers who have contacted you about purchasing a product | Send messages that say only "Thank you" or "I'm here to help if you have problems" |
| Include the 17-digit order ID | Send marketing material, including coupons, or promotions for additional products |
| Send messages in buyer's language of preference | Send a request for a product review or seller feedback several times on one order |
Additionally, do not include the following content:
Language that either incentivizes or persuades the buyer to submit positive product reviews or seller feedback, including by offering compensation, money, gift cards, free or discounted products, refunds, rebates or reimbursements, or future benefits
Language that requests removal or an update of an existing product review
Language that requests a product review only if they have had a positive experience with the product
External links unless they are secure working links (https, not http) necessary for order completion or links to Amazon
Attachments except for product instructions, warranty information, or invoices
Logos, if they contain or display a link to your website
Link to opt-out of messaging
Sensitive content in images or text (e.g. bare skin, violence/gore, adult/offensive language)
Tracking pixels or images
Encrypted email addresses or telephone numbers
Images of purchased product(s) as Amazon includes those on your behalf
Images that do not relate to your brand or company
Spelling errors or grammar issues
It's a lot. If you're worried about breaking the new rules, simply use the automated Request A Review feature within Seller Labs PRO.
What are Permitted Messages?
Amazon divides permitted messages into two types: Necessary Permitted Messages and Proactive Permitted Messages. Here's what you need to know about both:
Necessary Permitted Messages
Proactive Permitted Messages
What are they?
Amazon defines Permitted Messages as those communications necessary to complete an order or to respond to a customer service inquiry.
Proactive Permitted Messages are messages you initiate that are not responses to a buyer's question.
How are they sent?
Necessary Permitted Messages are order specific and thus can only be sent via your seller account in Amazon's Seller Central.
Proactive Permitted Messages can be sent using Amazon's templates via the Contact Buyer or Request a Review page in Seller Central or by using third-party applications in the Applications Store or the API.
Which messages are permitted?
Problem with Order messages:
Sellers must communicate with buyers if a product ordered is not available to be shipped. Sellers should adjust the full order amount using the Manage Orders feature in Seller Central followed using the "Problem with Order" option to communicate with the buyer about the inability to fulfill the order.

Return-related messages:
Sellers must process refunds for the order amount (minus any charges) using the Manage Orders feature in Seller Central. Sellers may communicate with buyers about their returns only when sellers need additional information to complete the return or offer a partial refund.
– Resolving an issue with order fulfillment
– Requesting additional information required to complete the order
– Asking a return-related question
– Sending an invoice
– Requesting product review and/or seller feedback
– Scheduling delivery for a heavy or bulky item
– Scheduling a Home Services appointment
– Verifying a custom design
– Any other reason where the contact is required for the buyer to receive the purchase.
Where Do Critical Messages Fall in the New Amazon Messaging Policy?
If you send a critical message in your Seller Central account, you will not be able to edit the subject line. Amazon will deliver the messages related to completing an order.
If you send a critical message using your own email client, include the word [Important], with brackets as shown, anywhere in the subject line. The email will not be blocked and you won't receive a bounce-back message.
| The following messages ARE critical to complete a buyer's order: | The following messages are NOT critical to complete an order: |
| --- | --- |
| Any message that will prevent the product from successful delivery | Requests for seller feedback or buyer reviews |
| Delivery scheduling | Order, shipment, delivery, or refund confirmations. Amazon already sends these emails |
| Issues with a shipping address | Proactive customer service, for example: product manuals, tips for using the product, answers to frequently asked questions, suggestions if something goes wrong |
| Questions about product customization | Out-of-stock or delay notifications, or offers of alternative products (please cancel the order instead). |
CHAPTER III
How to Make Your Communications with Buyers Compliant and Effective
Amazon has made it clear that you are responsible for your communication to buyers, even when using third-party software. You still need to reach out to buyers without risking messaging suspension or account suspension. How?
Know the rules and stay up to date with policy changes. Buyer-Seller Messaging is not a set-it-and-forget-it process, you need to review your messages. Follow those rules whether you use Amazon's Buyer-Seller Messaging service or third-party software.
Work with a trusted third-party software provider who is constantly updating software and services to be in keeping with Amazon's ever-changing rules and requirements. Seller Labs is a great example! We are a founding member of the Amazon Developer Council and in consistent contact with Amazon, which is to say that we are all over news and updates.
Remember that Amazon calls the shots. If Amazon restricts your messaging capabilities for an infraction, you're not likely to have that overturned. Don't give Amazon any reason to restrict your messaging privileges!
If you're worried about Buyer-Seller Messaging compliance, read the following posts about compliantly maximizing your messaging and test to see what works best for you
How to Get Reviews on Amazon in 2020
7 Feedback Genius Tips to Help You Optimize Your Buyer-Seller Messaging
Amazon Feedback Email: How A/B Testing Can Improve Amazon Reviews
To fully understand the updates to the Amazon communications policy, please watch our full webinar.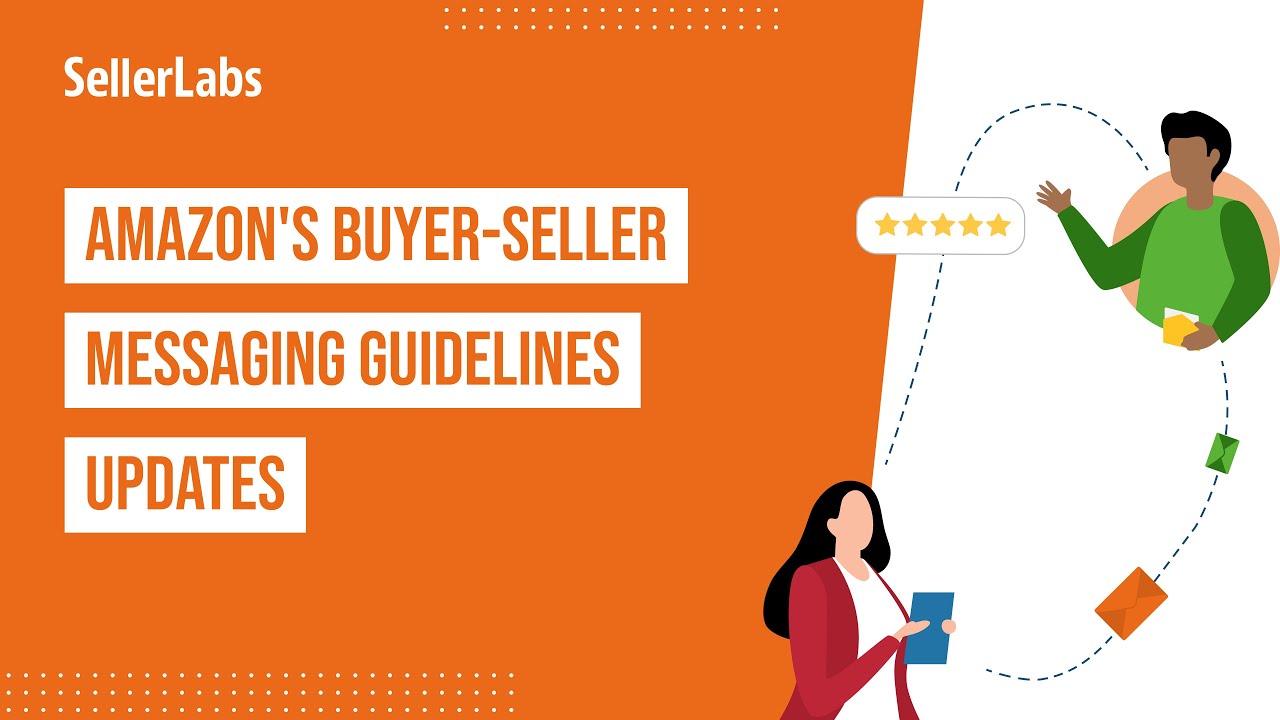 Try Seller Labs Pro FREE for 30 days and get access to tools to help you with your Amazon advertising, keyword discovery, financials, and more!
Maria Navolykina
SEO Content Specialist at Seller Labs
Maria is an SEO Content Specialist at Seller Labs. Once captured by digital and content marketing in her student days, she keeps living and breathing it ever since.
Subscribe to Our Weekly Newsletter to Get
Expert-Backed

Tips Straight Into Your Inbox