←
Back to Blog
Replay: Build and Protect Your Amazon Reputation
Build and Protect Your Amazon Reputation with Feedback Genius originally aired live on Tuesday, February 19, 2019.
Building a reputable brand online is hard work. As an Amazon seller, you run into even larger hurdles trying to develop and protect your Amazon reputation. Using a tool like Feedback Genius, you can take come of the guess work and manual labor out of building that reputation.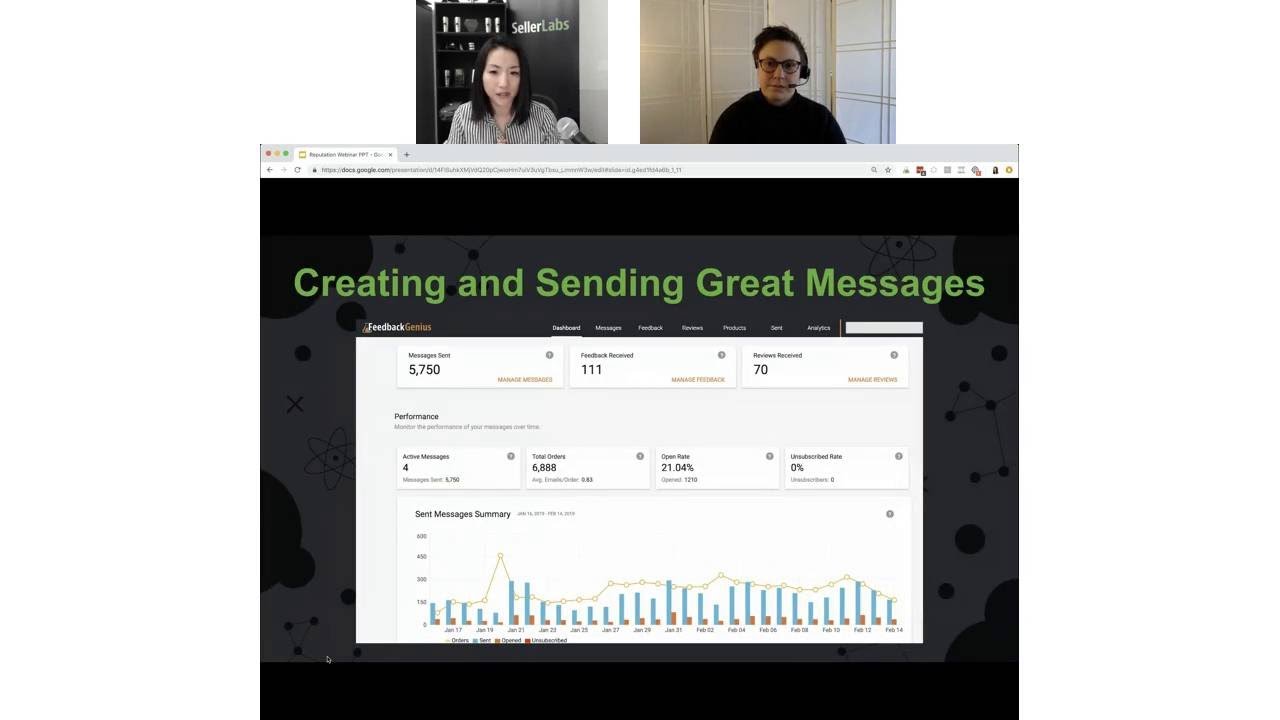 In this webinar, Product Manager, Cindy Snow, and Content Editor, Lena Liberman, go through all of the ins and outs of why sellers have a hard time building their Amazon reputation, what they can do to help improve it, and bonus features in Feedback Genius you should be utilizing to give your buyers the personalized experience they're looking for.
In Q4 2018, Cindy hosted another webinar with our very own Jeff Cohen, clarifying how you can communicate with your buyers. Did you know that 50% of Amazon sellers don't realize they can ask their buyers for a review? How many reviews is that leaving on the table?
Build and Protect Your Amazon Reputation with Feedback Genius Highlights:
What is your Amazon reputation? Why does it matter?
Challenges (and opportunities) of building a reputation online
3 reasons Amazon sellers get reputation management so wrong
Solutions for how to change your mindset and add automation to your business
Basic rules of messaging
If you're just getting started with a free 30-day trial of Feedback Genius, or you're a seasoned veteran of the product, there's something for everyone in this webinar.
Bonus Resources to Build Your Amazon Reputation
Caroline Powell
Event Manager, Partner Specialist, and Marketing Expert at DISQO
Caroline is an Event Manager, Partner Specialist,and Marketing Expert at DISQO. When she's not offering excellent customer support she's doing pirouettes and cheering on the UGA Bulldogs.
Subscribe to Our Weekly Newsletter to Get
Expert-Backed

Tips Straight Into Your Inbox